Royal Enfield celebrated its 120th anniversary with an epic ride. We sat down with the man behind it all
Two-wheeler brands are pushing the envelope when it comes to celebrating milestones. Most of them do it with a ride to the mountains or some other challenging terrain. Things aren't that easy when you're Royal Enfield. They have been the pioneers when it comes to the Himalayas and even have a motorcycle named after it. So to break new barriers, Royal Enfield decided to head to the South Pole with two riders aboard a slightly modified Himalayan, and they successfully managed it!
We got in touch with the brand for a candid interview with one of the two riders from this incredible ride: Santhosh Vijay Kumar, Lead Rides & Community, Royal Enfield.
Arun Nadar: Any other location that was shortlisted apart from the South pole to celebrate 120 yrs of the RE brand?
Santosh Vijay: No, from the beginning of the project, the target was clear that we wanted to go to the South Pole.
AN: Heading to the South Pole is no easy task, so tell us something about your preparation for the ride and what was the process?
SV: We kind of had an understanding of what would be needed physically so basically, to have some sort of physical fitness, we kept working out and lifted weights to build some strength and endurance. But the guys from Iceland club, they told us, before six months to the expedition not to get injured because any injury if it is not fully healed or if sometimes you don't move it gets activated. So basic strength building exercises and to increase stamina, I was asked to refrain from my bad health habits.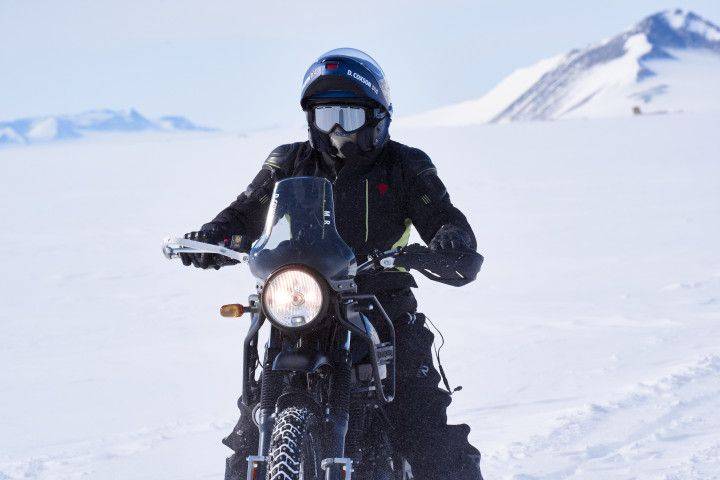 AN: How many kilometres were you covering each day, what was the planning behind that?
SV: So if you look at the map, you will see all the way from Antarctica to all the way down to the bottom and then come back to the South Pole. There was no specific number of kilometres per day, so the thing was we wanted to get to the start point ASAP, so there were certain days when we were travelling continuously for 30 hours. Then there were certain days when we were covering hardly any distance because even with specially prepared trucks, the surfaces were really soft and in some places it was totally unrideable. So it was basically the weather conditions that decided our pace. Even for reaching the South Pole we had a 30hr window, but after reaching the destination we were hit by a whiteout and you couldn't see anything. So we were stuck there for two days before moving out.
.
AN: What was the lowest temperature that you encountered?
SV: Lowest while riding was -35 degrees, the lowest all-time was -37 degrees. The best temperature we saw on the plateau was -26 degrees. So when we reached -26, we actually felt hot, so much so that we took off our layers of clothing!
AN: That sounds really interesting, you thought you were in Chennai?
SV: Even I find it funny because at -26 we had the windows open when we were sitting in the car because the sun was so strong and we realised that we were so used to the cold temperatures that we got the windows down and were still comfortable. It took us 4-5 days to get used to the cold. Also, while returning from Chile, the temperatures over there were hot and again it was difficult for my body to adapt to the heat.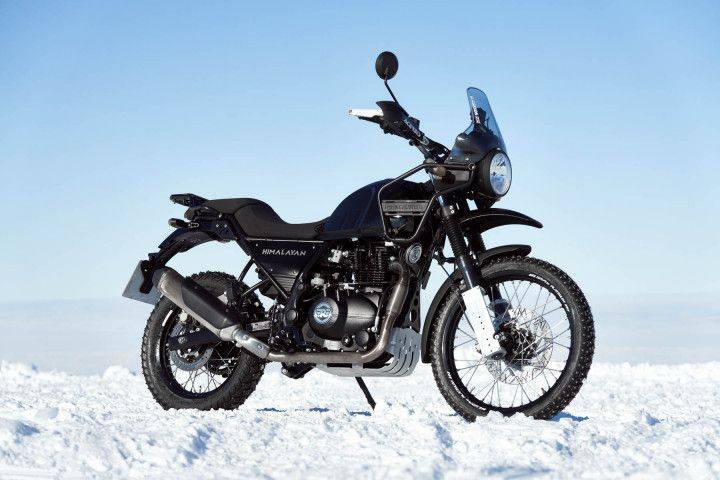 AN: What modifications were to the Royal Enfield Himalayan to make it expedition ready?
SV: Right from the beginning, we decided to keep the modifications to a bare minimum. So we had tubeless tyres, different sprockets so we went to a 13 tooth from a 15 tooth so that we have better low-end torque apart from that we took the centre stand off. We also removed the oil-cooler as it was futile at those temperatures. Other than that we kept it the same, the motorcycle is a stock and is road legal and registered in the UK. We wanted to keep the motorcycle stock because of two reasons: the motorcycle has been ridden for so many years in different kinds of terrains, we had a confidence that things wouldn't go wrong with it. We wanted to ride a stock machine so that a normal Himalayan owner could connect with the expedition bike.
AN: After the ride did you feel that there were any modifications you could have done?
SV: A couple of things that would have helped us a lot, but I don't think they would be the right things to do. Like the exhaust, we could have removed the catalytic converter but that is not the right thing to do. Maybe I could have lost a lot more weight on the motorcycle by losing a few things like the headlamps or whatever but again it would have lost the visual connection with the standard Himalayan. As an individual, if it was done then it would have been a different thing but for this ride, nothing was required apart from this. It was perfect the way it was, I am so much more in love with the Himalayan again.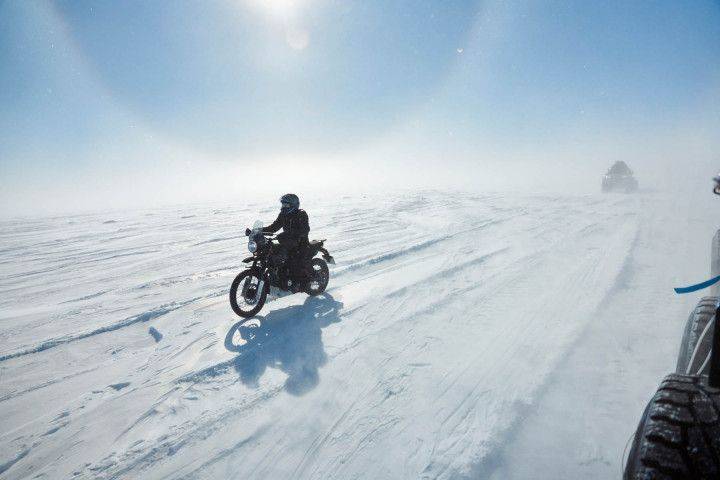 AN: Apart from the cold, what was your toughest challenge in the ride?
SV: The biggest challenge for anyone is going to be visibility, so even when you think everything is very visible the wind picks up. It doesn't snow in Antarctica, what happens is when the wind becomes stronger it picks up the loose snow from one place and blows it across and then the visibility goes for a toss. The wind speed is like 40-50kmph. What happens is you can't see the track at all, there is this whole misty surface that looks like dry ice and it feels like you're driving through the fog. So you can't see and plan a route, then you are obviously hitting the bad rocks and soft spots. The second is the surface changes texture as well as, the hardness and softness changes without any warning. So you are doing about 45kmph because the surface is strong and you are able to carry good speed, suddenly the surface is completely soft and you can't tell the difference. Here the sun is at a certain angle and it is all looking very greyish, there are no shadows to make out where the depressions are so reading the surface becomes very very tough. So you read the surface after you fall.
AN: Is there any difference in terms of the quality of snow? Riding through snow in India and riding it in Antarctica, is it similar?
SV: Ice and snow are completely different and have different temperatures and different humidity levels. The one in Antarctica is very dry, the humidity is less than 50 per cent, so it doesn't even get wet. Even if you stick your hand in that snow, it doesn't get wet quickly and because of which it isn't very slippery.
In some places, it's like sand, in some places it will give great quality, in some places there will be a lot of snow drifts which makes it very tough to get through. So in India, the snow is a lot better, at least in the temperatures we have ridden.
The kind of snow is also different, for instance, if you are walking in Antarctica, the contacted surfaces make a very metallic sound. You can't hear it anywhere else. Iceland snow is a lot more soft, less powdery, more crystalline kind of snow that I came across.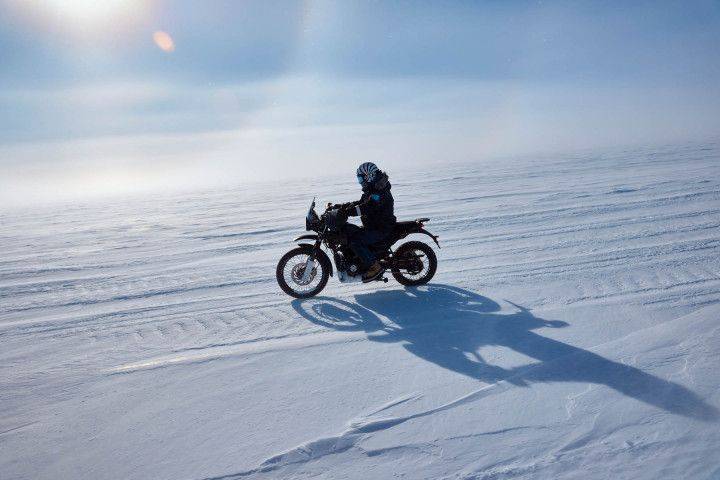 AN: What was your top speed?
SV: At the max, maybe between 45-50kmph, that was the max we could do. Sometimes it was so cold, we couldn't even hold the handlebars properly. I was very happy with our cruising speed of 25kmph. It gets you 25kms in an hour without getting stressed and the last thing you want to do is get stressed.
AN: What kind of riding gear were you wearing there?
SV: I wasn't wearing motorcycle gear as such, I was wearing a one-piece snowsuit. Inside I had one layer and I ditched the heated jacket because it is stressful riding in the snow when you sweat. I like to be free on the bike and not restricted. With pants too, I had three base layers, middle layer and I was wearing these snow big pants.I tried different types of heated gloves but none of them worked because they don't give you heat on your fingertips. For the helmet, we couldn't wear a full-face helmet because they get fogging up. I didn't opt for a motocross helmet as one had to remove the helmet multiple times and in that cold, it was a task so I stuck to a half-face helmet. I was wearing multiple layers of balaclava inside it, but one had to be extremely careful while removing it. In that cold, due to condensation, there used to be a layer of ice on my beard and the last thing is a waxing of your face! So I wanted something easy to wear. (19:15) I just wanted to be really comfortable.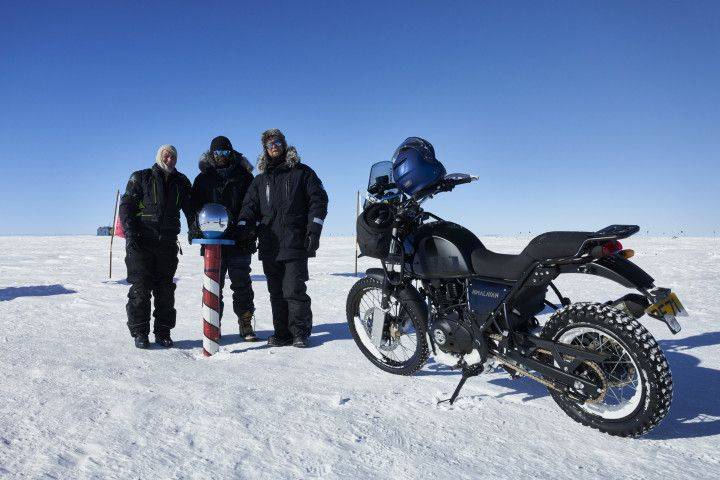 AN: The biggest learning and challenge for you from this ride?
SV: The biggest challenge was trying to work through the pandemic, there were a lot of setbacks, schedules were changed at the last minute. Those were the biggest challenges. I was sitting in Chennai, sitting somewhere and other people sitting in the UK, so coordinating–that was the biggest challenge. On a lighter note, the biggest learning was that temperatures below sub-zero can be hot. One big personal discovery was that none of the gloves work in that extreme cold.
AN: How much is it physical strength and how much mental strength is required on rides like such?
SV: I think I would say it is 75 percent mental strength because you can be extremely fit but when things do not go according to plan and the weather is looking bad it feels like everything is gone to the dogs. It is only your mind that can handle this and help you tackle such tough scenarios.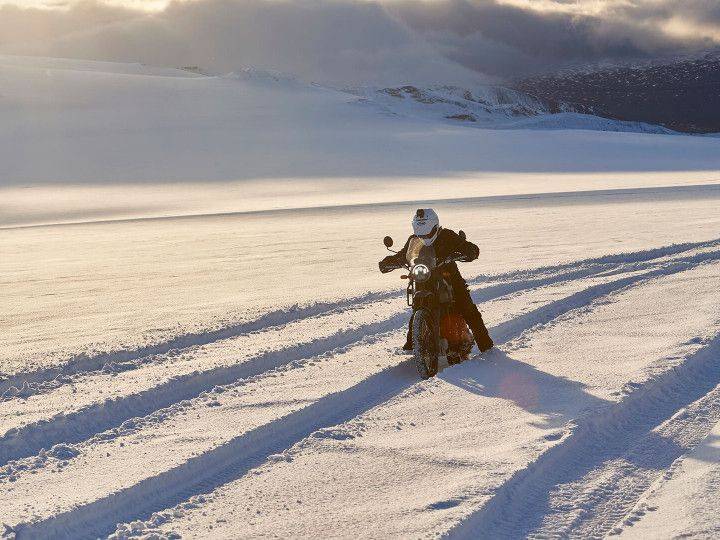 AN: Royal Enfield has an initiative of 'Leave Every Place Better'. How did you guys manage that?
SV: We wanted to leave the mountains and the surroundings as we found it and basically we couldn't leave anything back at the mountains so we had to carry all the trash back with us. It is very simple, people have been going for such things for a long time and they have managed to do it without harming the environment. So we made sure all the garbage was collected in a separate sealed bag, and that also included human waste as well. Even taking a leak was kind of different. We had to pee in a bottle and then put it in another trunk before it freezes and if it did, you put it in with the rest of the garbage. Even brushing teeth was a task as you couldn't spit it out, so we had a separate area for brushing, but by the end a lot of guys started gulping it down!
We were extra careful when we were filling the diesel and petrol, we had clothes placed below the vehicles so no spillage happened. Even if we cooked something and there was some spillage, we ensured to remove the contaminated snow. All the plastics that came with the food and all we made sure that it was all collected. So we made sure to not leave anything behind. So we reached six camps at the South Pole and the Union Glacier, so these guys have a proper disposal facility.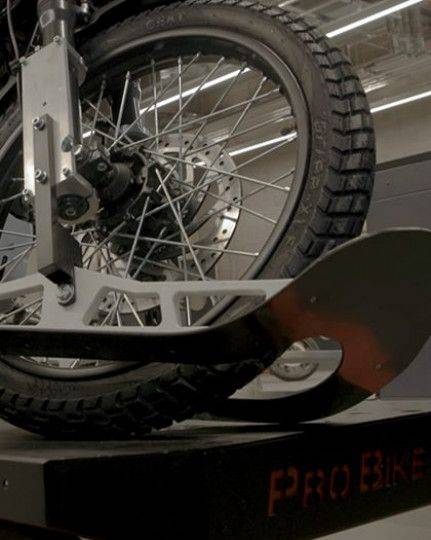 AN: What was the learning for RE as a brand and as a manufacturer from this ride?
SV: About that, I don't think I can talk about that right now
AN: What's lined up for you next?
SV: First thing that I am looking forward to is the Himalayan Odyssey and if the Covid situation improves, I can't wait to head to the beautiful mountains.