The German luxury carmaker has revived one of its best-selling cars in the form of the Mercedes-Benz GLC. The new generation of the SUV debuted with a hybrid powertrain mated to either petrol or diesel engines. It is to be noted that the car shares its platform with the C-Class. However, that does not change the fact that the car has grown in size compared to the older models. The new Mercedes-Benz GLC will be launched with two options for the US market, namely the GLC 3000 and the GLC 300 4Matic.
Read More:-Electric Motorcycle From BSA Incoming
2023 Mercedes-Benz GLC: Exteriors
Besides the size, the new-gen Mercedes-Benz GLC gets other major changes in its appearance. To mention a few, it now comes with a newly designed grille and bumper complemented with new headlights for a complete makeover. The same goes with the car's rear end; it gets new tail lights with slimmed presence; the SUV now touches the ground with a new set of 18-inch wheels which can also be replaced with 20-inch wheels for the AMG version of the car.
2023 Mercedes-Benz GLC: Interiors
The interiors of the 2023 Mercedes-Benz GLC are loaded with a myriad of features to give the car a more modern feel. When you take a look inside the car, it features an 11.9-inch touchscreen infotainment screen and the new version of the MBUX system. The digital screen in the interiors of the car doesn't end there. It is also equipped with a 12.3-inch digital instrument cluster.
Read More:-Amidst complaints, Ola Electric promises 14-day delivery to select S1 Pro customers
2023 Mercedes-Benz GLC: Powertrain
Coming to the powertrain and upgrading the tech under the hood, the 2023 Mercedes-Benz GLC now comes with a mild-hybrid system paired with an ICE engine. The 300e 4MATIC models combine a 204 hp 2.0-litre petrol engine with a 100 kW electric motor with a 136 hp output. Increasing the total output power to 313 horsepower.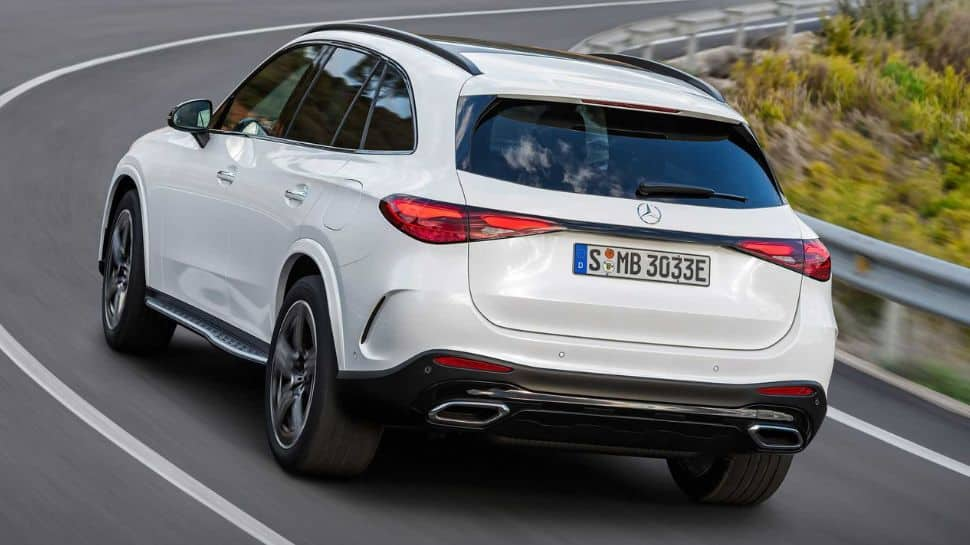 A 252 hp 2.0-litre petrol engine is combined with a 136 hp 100 kW electric motor in the 400e 4MATIC models. Resulting in total power output is 381 hp. The GLC 220 d's diesel engine produces 194 horsepower and is coupled to a 145 kW electric motor that produces 197 PS.
Owing to the electric battery capacity of 31.2 kWh, the SUV gets an electric range of 120 km. Moreover, the battery can be fully charged in half an hour using a 60 kW charger.
Read More:-2023 Mercedes-AMG One breaks cover with F1 engine, gets massive 1049 HP power
2023 Mercedes-Benz GLC: Competition
The new new-gen Mercedes-Benz GLC will be competing in the luxury SUV segment against the models like Volvo XC60, BMW X3 and Audi Q5.